Hon. Alexia Gertrude Amesbury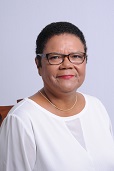 Intersession Activity Reports
Bio of Honorable Commissioner Alexia Gertrude Amesbury
Honorable Commissioner Alexia Gertrude Amesbury was elected to the African Commission on Human and People's Rights (ACHPR)in February 2020 and was sworn in during the 28th Extra-Ordinary Session of the ACHPR on 29 June 2020. She is the first Commissioner elected to the ACHPR from Seychelles.
Commissioner Amesbury is the Chairperson for the Working Group on Indigenous Populations/Communities in Africa and the Chairperson of the Committee on the Protection of the Rights of People Living with HIV and those at Risk, Vulnerable to and Affected by HIV.
She is responsible for monitoring human rights in Botswana; Zambia; Lesotho; Eswathini and Egypt.
Commissioner Amesburyis an Attorney-at-Law by profession and has built a reputable career as a Constitutional, Human Rights and Criminal Law attorney, including taking ona number of high-profilecases in Seychelles and presenting a casebefore the Human Rights Committee in Geneva.
In 2015, she became the country's first female Presidential candidate and established a political party, the Seychelles Party for Social Justice and Democracy (SPSD).
In an effort to raise awareness of people's fundamental rights, she has also had Chapter III of the Constitution of Seychelles translated into Creole and published. Over the years, she has regularly contributed op-eds and articles to national newspapers and featured on televised debates on topics ranging from women's rights to the judicial system.
Commissioner Amesbury began her legal career as an Assistant State Counsel at the Attorney General's Chamber in Seychelles in 1993 and was called to the Bar in Seychelles in 1998. She became a Member of the Private Bar shortly thereafter and began her own Law Chambers in 2002.
She read her Bachelor of Laws (LLB) at the University of East London and gained her Master of Law (LLM) in Public International Law from the London School of Economics & Political Science; this included Human Rights in the Developing World, International Protection of Human Rights, International Law of Natural Resources and International Environmental Law. She is a Barrister and a Member of the Honourable Society of Inner Temple in England and Wales.
Commissioner Amesbury is fluent in English, Creole and Kiswahili.
Special Mechanisms Appointments