ACHPR 2015 – 2019 Strategic Plan
Type :

Policies

Language :

English

Publisher :
As the Continent's leading human rights institution mandated to promote and protect human and peoples' rights, the African Commission on Human and Peoples Rights (The African Commission) has over the years registered major strides in this regard. However, a great more still needs to be done to ensure an Africa where rights are recognised, respected, enjoyed and protected for all without any distinction. 
The Strategic Plan (2015-2019) therefore sets out a bold and ambitious vision for the African Commission. Building on the successes of the previous Strategic Plan (2008 –2012), it articulates the African Commission's commitment in shaping and improving the human rights landscape of the continent over the next five years under the theme: 'Delivering Better'.
The Plan focuses mainly on human rights promotion and protection, capacity building, stakeholder participation and collaboration as well as communication and visibility of the Commission. In view of the lessons learnt from the previous strategic plan and the imperative to ensure a more effective implementation of this one, a range of modalities and approaches such as SWOT, funding strategy, risk assessment and management and implementation and monitoring frameworks have been outlined. It also provides broad opportunities for partnerships with Member States of the African Union and other stakeholders in the Continent and beyond.
This Plan is a result of an intense and rigorous process of thought and wide consultations and for this I offer my deepest gratitude to the Working Group on Specific Issues, Colleague Commissioners and the Secretariat for a job well done and also to the AUC and UNDP for the technical and financial support provided respectively during the process. 
It is also my belief that it has struck the right balance in maintaining what we do well and responding to future requirements and opportunities.
Although total respect for human rights is the ideal, the development of this Strategic plan is guided by the conviction to effectively promote and protect human rights in African Countries. Our mandate requires us to deliver in all areas for which we are responsible but we cannot do it alone. Therefore, in executing this strategic plan, we will count on the pool of partner organisations that we already have, and the many other potential partners and collaborators who share our vision and mission as well as those who have an interest in the work of the African Commission.
Inspired by the general human rights policy defined by the African Union through important blueprints such as the AUC Strategic Plan 2014-2017, I am convinced that the implementation of this strategic plan can succeed with the involvement of all stakeholders and together we can deliver better for Africa.
KAYITESI ZAINABO SYLVIE
CHAIRPERSON OF THE AFRICAN COMMISSION
Read More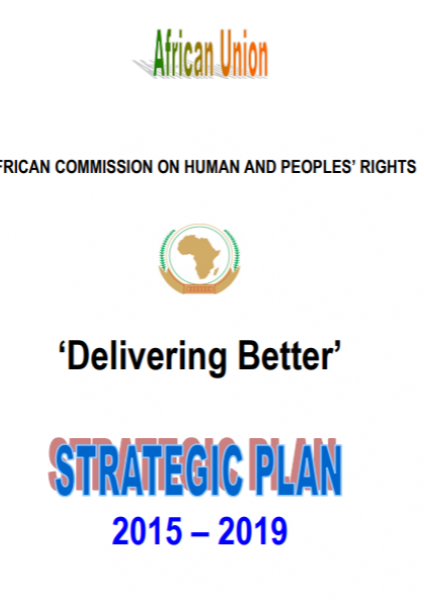 Working Document
May 15, 2016
[English ,PDF 704.69 KB]